Well, boys and girls, as sad as it is to say, our Shimmer coverage for this year is nearly complete. Only one more Volume lies between us and months of hibernation for Shimmer until their reemergence in the Spring. It's a bittersweet moment, because while it will be truly sad to finish our wrap up and be done with Shimmer, we also cannot wait to tell you about a Volume where things got decidedly hardcore. No, not like that, you perverts. You have to go to the afterparties for that. No, what I mean is that on this night, the ladies of Shimmer went extreme.
That Purple Logo Makes Way More Sense Now.
So where are we coming into the final show of Shimmer weekend? Well, Cheerleader Melissa successfully defended her title against LuFisto, though it cost her a few pints of blood and a dozen stitches. Madison Eagles and Nicole Matthews are having a feud over which is better, Starbucks or Tim Horton's. Portia Perez is still collecting outfits to create the strangest Halloween costume of all time. And a whole group of aspiring up and comers are putting themselves on the map like never before. Will any of them break through in their last opportunity of 2013? Only one way to find out.
Santana Garrett Over Nevaeh Following The Shining Star Press.
Cewsh
: Santana gets a win over Nevaeh to put a final stamp on her mini feud against Sassy Stephie and her crew. It wasn't a spectacular match by any means, but Santana impressed as usual, and Nevaeh continued to show that she deserves consideration for a bigger role going forward.
Jessicka Havok Over Crazy Mary Dobson Following A Sitout Chokeslam.
Cewsh
: Well, Crazy Mary tried her best.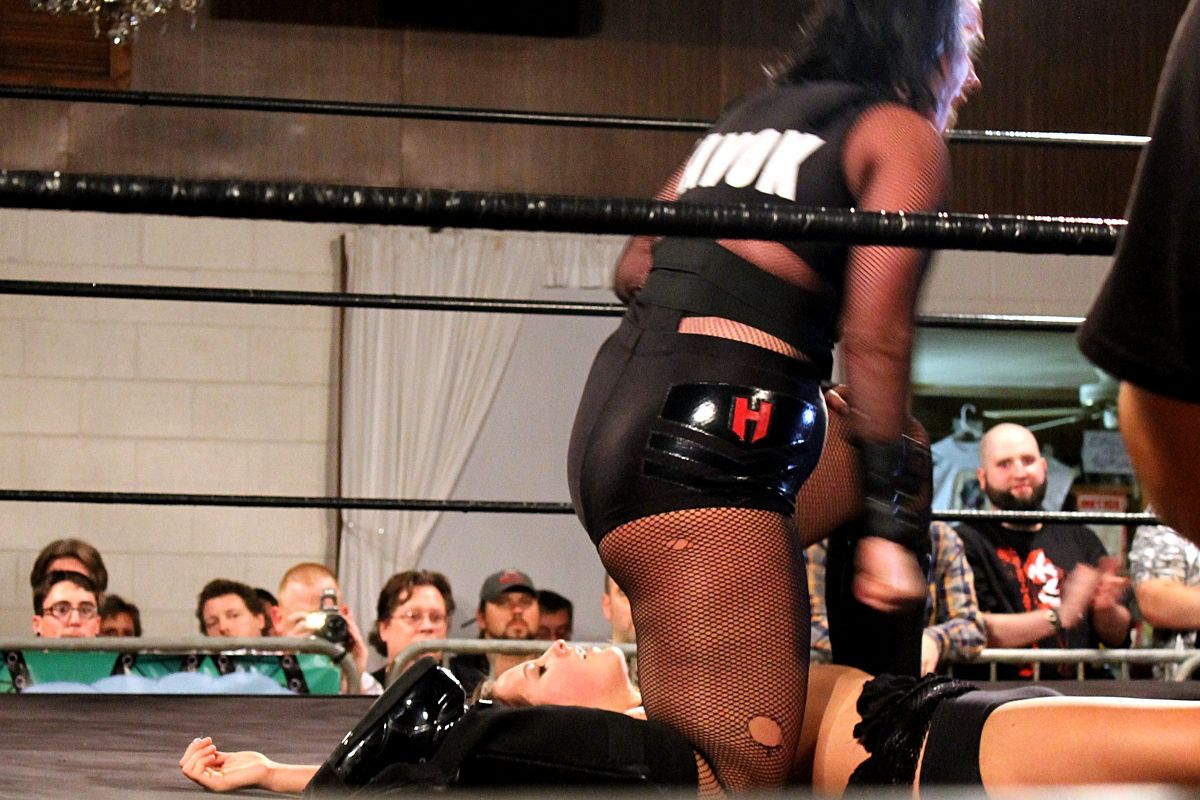 Unfortunately, Her Entire Body Is The Size Of Havok's Thigh.
But even though she got thrashed by Shimmer's resident monster, Crazy Mary impressed us more than a little. Truth be told, we really didn't know what to make of the whole "Crazy" character when she came in, and I was worried it wouldn't fit Shimmer at all. But whatever she does elsewhere, here the craziness manifests itself as a reckless abandon in the ring that makes her both lovable and sympathetic. Is it any wonder, then, that the fans broke into chants of, "Please come back," on her way out, even though she had only been part of one meaningful match all weekend?
For the best talents, once is all it takes.
Mia Yim Over Angie Skye Following A 450 Splash.
Cewsh
: Wait, what's this? Angie Skye? On the main roster? Not on Sparkle? After all these tapings? Well there's only one thing to say.
You may think that we've been making an inordinately big deal about a Sparkle talent being called up, and I don't want to misrepresent Angie Skye as the second coming of Jaguar Yokota. But she's show real sparks of something special in her time with Shimmer so far, and it's extremely gratifying to see her get a chance to ply her trades with the lights on bright.
And her first match is against Mia Yim, no less. So what you're looking at is very possibly a future Shimmer main event somewhere down the road. Yim beats Skye this time, but just wait and see. If the booking gods are good and true, we'll see them meet again.
Mrs.Cewsh
: I think everyone in our section was really happy to see Angie on the main roster
Thunderkitty Over Taylor Made Following A Sleeper Hold.
Cewsh
: If this were any promotion other than Shimmer, I would turn this segment into some kind of wacky prolonged joke in order to avoid actually having to talk about it. Unfortunately this IS Shimmer, and this match isn't even bad. It just features a character that I have lost all interest in, (Thunderkitty,) and a tag team wrestler who is missing her more charismatic half, (Taylor Made.)
It must be said, though, that Thunderkitty has been pushed hard and effectively over the course of these tapings. The crowds are behind her, and if her matches aren't holding up their end of the bargain, she's still someone that Shimmer seems to have faith in. So I'm not writing her off altogether so soon. I'd just like to see improvement going forward.
Nicole Matthews Over Heidi Lovelace Following The Vancouver Manuever.
Cewsh
: The only really noteworthy thing about this match is that Nicole Matthews brought out one of Madison Eagles' t-shirts and spilled a full cup of Starbucks all over it. With that, this feud now moves ahead of Kane/Chris Jericho as the best feud revolving around spilled coffee in wrestling history.
Leva Bates Over Nikki Storm Following The Pepsi Plunge.
Cewsh
: For a long time now, Leva Bates had been a booking problem. She was wildly, wildly popular, which would indicate that she should be pushed high up the card, but her matches didn't even remotely correspond to that potential push. As a result, she's had a mixed bag of pushes in Shimmer thus far, from winning midcard matches with flash pins, to being destroyed by main eventers, to teaming with a legend and losing every single match. All through it, I've been waiting to see Leva Bates come up with that one move that would make her truly credible, along with that one match to really send her in the right direction. And luckily, this night saw both.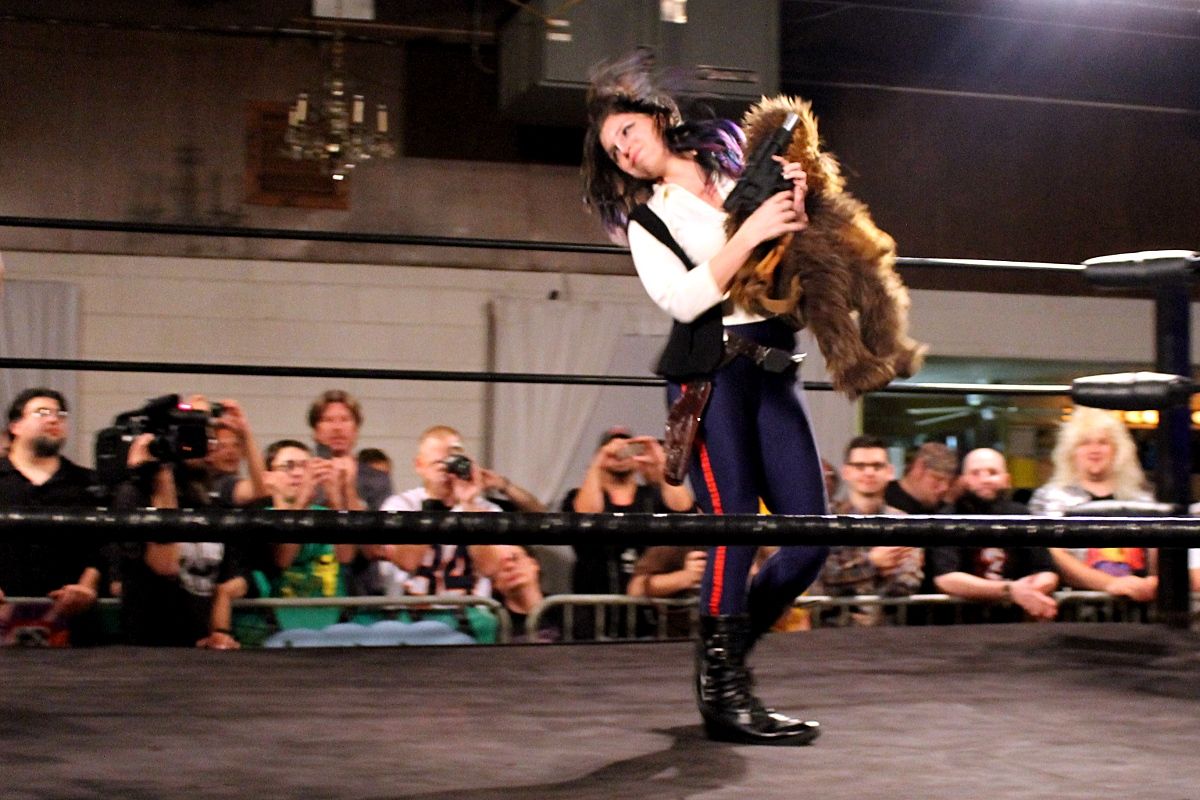 As Well As Leva's Best Costume Yet, As Leva Solo.
It didn't hurt that she had Nikki Storm as an opponent. Storm was perfect, not only because she's such a great and credible heel, but because she's Leva's size, so Leva offense really worked on her big time. But even that couldn't have prepared us for the unveiling of the cosplay queen's new superweapon. The Pepsi fucking Plunge. If you aren't familiar with it, it used to be CM Punk's finisher on the indies, and it is insane.
That's right, a top rope Pedigree.
Welcome to the big time, Leva. The sky's the limit for you now.
MsChif Over Miss Natural Following The Obliteration.
Cewsh
: I remember very little about this match, just a week later, but I do remember being very pleased to see MsChif get a really solid victory. She's kind of became the main event jobber since losing her title to Madison Eagles many moons ago. It makes sense, and it's helped lots of people get a leg up. But dammit, MsChif is just too damn lovable to be okay with her losing every time.
Hiroyo Matsumoto Over Portia Perez Following An Exposed Turnbuckle Shot.
Cewsh
: Portia Perez is the greatest. Have we beaten that idea into the ground enough yet?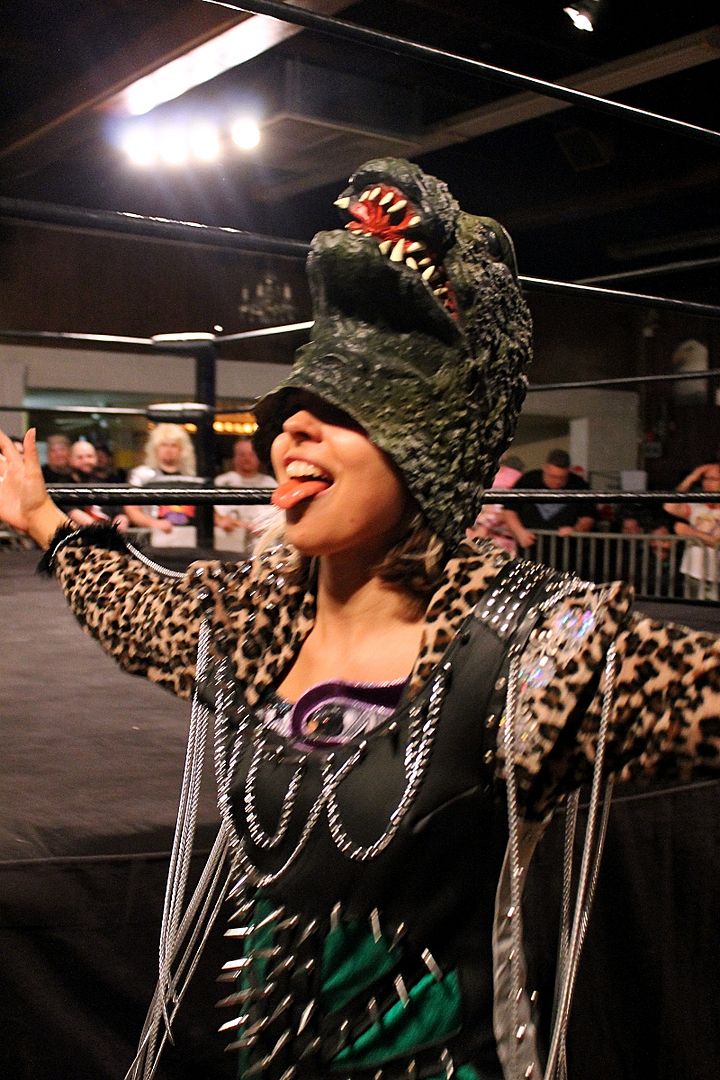 Shimmer likes to do storylines that exist across four tapings, so that they can be contained all into one weekend. Since they only tape twice a year, that eliminates the risk of people not being able to come back or being signed by the big leagues and things like that. So in a rematch of the match that saw Portia name herself the new Godzilla, Matsumoto finally gets her hands on our resident heel goddess and wrecks her but good. At one point, Nicole Matthews charged in to the rescue of her tag team partner...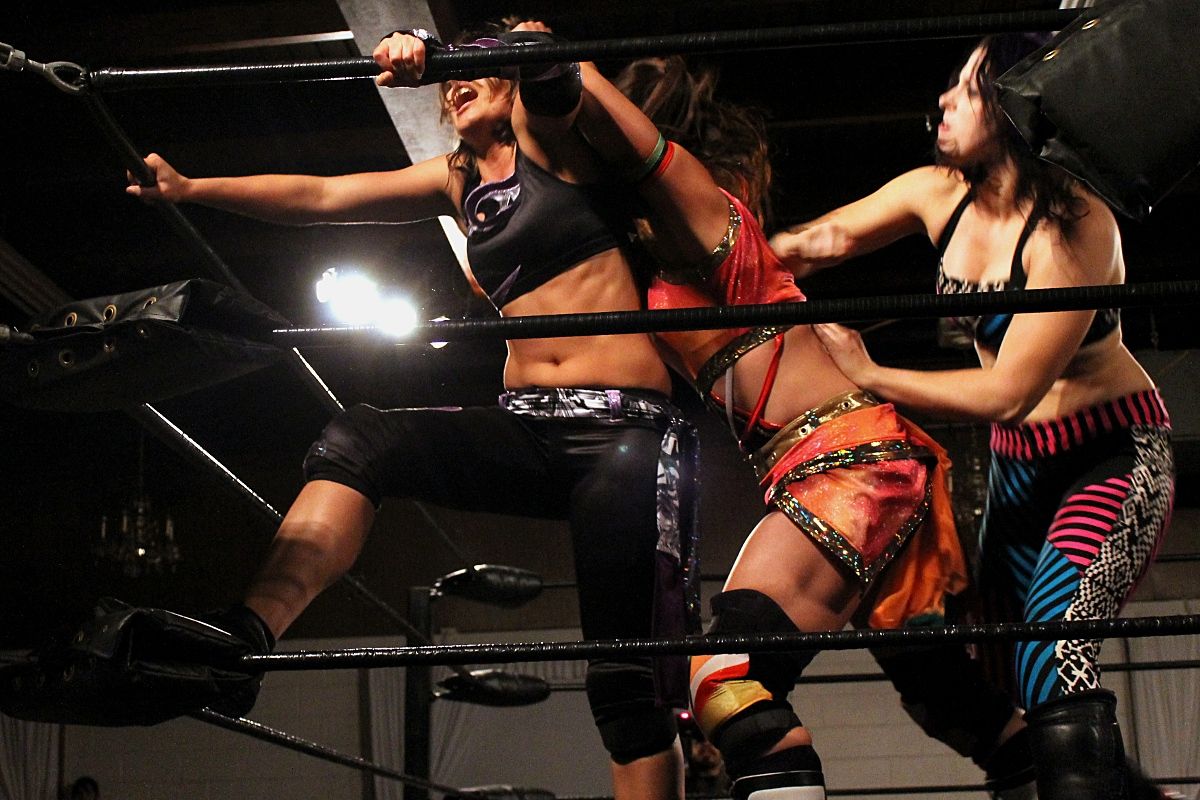 ...only to be foiled when MsChif and Thunderkitty rolled in to get their damn outfits back. Matsumoto slams Portia's head on the exposed turnbuckle to get some sweet revenge, Backdrop Drivers her out of her shoes and puts the metaphorical bow on the whole thing. Happily ever after, the end.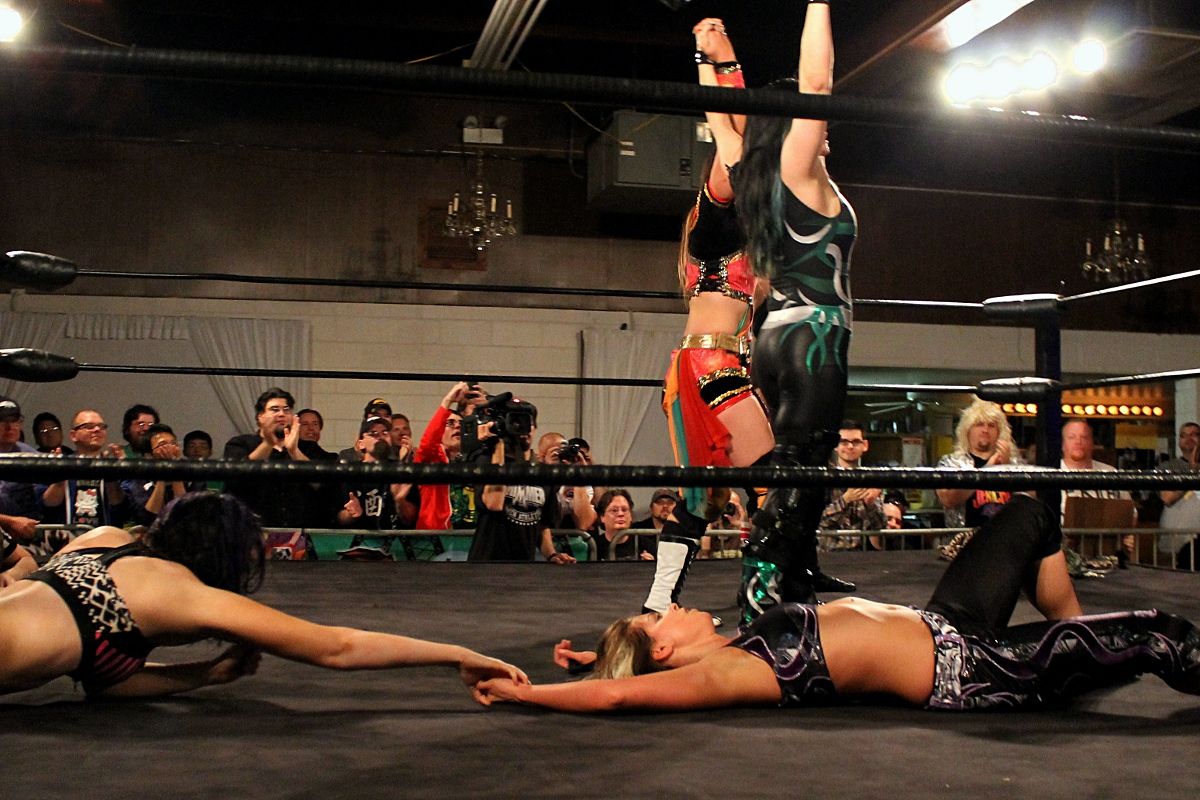 Shimmer Tag Team Championships - The Global Green Gangstas (c) vs. KimberBomb.
Cewsh
: 3G are good, KimberBomb are good. It was good.
3 Stages of Hell Match - Christina Von Eerie Over Saraya Knight With A Score Of Two Falls To None.
Cewsh
: So we mentioned on Volume 60 that Saraya Knight and Christina Von Eerie have been feuding off and on for ages, and that Saraya decided to bring it all to a head by challenging Eerie to a 3 Stages of Hell match. In this case, that means that the first match would be decided by pinfall, the second match decided by submission, and the third match will be a hardcore match. In the hands of someone like Saraya, this can be a dream gimmick, but even now, I'm not sure what kind of match we really got out of it.
Part of the problem was that there were some technical difficulties that really fucked with the momentum of the match. Abruptly before the match started, it was announced that each round would only last 5 minutes, which audibly confused people in the crowd, because how the hell are you supposed to pin someone of this caliber in 5 minutes? The answer is that you don't, and the first round is a tie. That brings up another problem because they SPECIFICALLY STATED before the match that the winner had to win two matches in a row. This took a bit for people to work out, but then things proceeded as normal, until Eerie locked Saraya in a submission and it seemed like time had expired again. This was MEGA confusing, until the referee revealed that Saraya had submitted immediately before the time limit expired.
All of that stuff really resulted in a messy and unsatisfying first two falls. But luckily there was that third fall, where the weapons came out to play. And both of these women are more than proficient in the art of hardcoredness.
Eerie winds up winning, and that's a huge win for her. With that, I think it's fair to say that she has reached title contention and that there are some big things for her on ahead.
Cewsh
: At some point there ws an unspoken agreement made by Shimmer wrestlers that if there is ever any kind of multi woman match, it will immediately be a comedy masterpiece. I am not complaining about that, because these things frequently steal the show. The big comedy setpiece here was that, once again, Madison Egales has a number of forks sequestered about her person, and when the match starts, she attacks Shida with one, only to be stopped by Kana, who challenges her to CUTLERY COMBAT.
But Shida isn't having any of that shit, and raises the stakes just a taaaaaad bit.
The whole match is a long those lines, with some great dynamic wrestling mixed in. Eagles surprisingly wins the match in the end, prolonging her enormous winning streak. Madison Eagles is pointed at Cheerleader Melissa like an arrow at this point. It's just a matter of how long it takes her to get there.
Cewsh
: Not the main event you were expecting, huh?
Us either. What happened is Melissa had to go to the hospital to get stitches after being busted open in the main event of Volume 60. So instead of the tag team dream match, instead we got Mercedez cutting a promo saying that LuFisto badly messed up Melissa, and that Mercedez isn't going to stand for anyone disrespecting her friend like that. So this time these two are going at it in a Falls Count Anywhere match, which was reminiscent of when Madison Eagles and Mercedez went into the crowd once upon a time. Mostly because, in both cases, Mercedez threw someone directly into our seats.
But while Mercedez is a fearsome opponent and a legendary champion, LuFisto is not to be fucked with this weekend. She bashes Mercedez all over the place, and starts looking to give her the ol' Burning Hammer, when all of a sudden somebody shows up out of nowhere. You'll never guess who.
Melissa shows up and destroys LuFisto, allowing Mercedez to hit a Fisherman's Buster and win the match. And as the sun set on the final taping of Shimmer weekend, Melissa stood tall with her title and a new ally, seemingly even more untouchable than ever.
-----------------------------------------
Mrs. Cewsh
: I think it's pretty obvious that I'm not much of a wrestling fan anymore, and before Shimmer weekend I was regretting spending so much money on tickets and the hotel. But even a less than perfect Shimmer weekend is exactly what I needed to reinvigorate my love of everything good in wrestling. I had so much fun with our friends, and I can't begin to express my respect for the women performing.
See you in the Spring!