Here's how you can submit questions of your own. All you have to do is go
HERE
, (and please select the "Mailbag" drop-down,) or send us a tweet, (
@CewshReviews
). The questions that get answered will always be the most interesting ones and we try to keep things at least vaguely PG-13 around these parts, so keep out anything bizarrely offensive to the young and impressionable minds who read this blog. Now let's get on with the show!
As far as the "Holy S***-o-meter" matches go...nothing will ever touch the epic Foley/ Taker HIAC match. I know that the spot of Foley getting tossed off the cell was planned (& I've heard that Taker was actually against it).
2 questions...was the chokeslam through the top also planned, or just a chaotic coincidence? Also, I've also heard Taker had a broken foot during the match (which seemed to irk him when he dropped onto the mat after the chokeslam). How/ when did he break his foot?
Cewsh
: There seem to be some contention as to whether or not the chokeslam through the cage was planned or not. It is widely believed that the panel he fell through was meant to give eventually for a more careful fall through the center and the chokeslam sped up the process much to their surprise, but watching the video, the Undertaker placement of Foley seems very deliberate. It hasn't been specifically confirmed either way like the first dive off of the cage has, so it's open to interpretation. As for my opinion, I think the fact that Foley and Taker have not spoken openly about the cage breaking by surprise is a pretty clear indicator that it wasn't a surprise to them. But until either one says for sure, it'll remain one of those topics of debate.
As for the Undertaker's ankle, he actually suffered a CRACKED ankle with bone chips during the angle where he was throwing furniture around in Paul Bearer's home. Oddly, Paul Bearer also injured his ankle during that same angle.
-------------------------------
Do you think we will ever see Lita return to WWE. By far my number one female wrestler of all time in the company - would be great if she returned and took the title of most women's championship reigns off Trish.
Cewsh
: This is one of those, "never say never" sort of questions. While Lita has expressed in the past that she is on good terms with WWE and is open to sporadic appearances, she doesn't seem overly eager to get back in the ring full time as she continues to do charity work worldwide and tour with her band, the Luchagors.
Could we see her again? Absolutely. But will she be winning titles anytime soon?
-------------------------------
Was I on acid way back when, or did WWE at some point plug the gap of a stretched roster with Big Bossman crashing Big Show's dad's funeral and towing the coffin off with his car, laughing as he went?
Cewsh
: Both.
-------------------------------
Do you think, if ever someone who was serious about it turned up, that Vince could ever be convinced to sell the rights to WCW and what could you imagine could be done with it? I think its an interesting scenario but at the same time i doubt the pro wrestling market as it is today is big enough to have two super promotions again.
Cewsh
: Here's the thing about the right to WCW, or WCW or any other defunct wrestling body. They aren't inherently worth very much. If you bought the property from WWE, you would get the tape library, the logos, the title history, and the name. What you would not get is an entire promotion unto itself. So the only way that WCW could be relevant again would be if a strong financial backer sunk millions of dollars into opening a new wrestling promotion, bought the rights from WWE, (who wouldn't be keen to sell,) and then negotiated with a television network/Netflix/Hulu/etc for broadcasting rights. Then they would have to assemble a roster out of people who are not under written contracts to WWE, TNA, ROH or NJPW, which would largely be a bunch of nobodies. Then they would have to sink money into a national scale advertising campaign to promote awareness to their product, and then they would have to put on years worth of shows before the concept began to drum up real interest with viewers.
That's not to say that it CAN'T be done. TNA has made virtually every mistake possible during it's history, and yet they still built themselves from nothing to relative prominence over the post 11 years. But for another national company to enter the fray, a major shake up in the industry would need to take place, just from a finding talent perspective. If TNA goes under, though, things could get interesting in a hurry…
-------------------------------
My question is about the WWE App "polls". Are they rigged? Me and my friend were talking about this during one of the votes and we thought back to the Vicki job poll and I don't see 22% of fans voting for her to keep her job....
Cewsh
: The general idea of the polls is that they are legitimate, but WWE intentionally leads fans to the selection they want. For example, if they want Daniel Bryan and Randy Orton to have a No DQ match, they'll put in two other match types that fans historically don't have great enthusiasm for or that are basically the same thing, (2/3 Falls and Street Fight respectively,) so that the fans can participate, but WWE can still plan ahead.
And hey, never underestimate the contrarianism of the general audience. I proudly voted in favor of Vickie that night. A vote for Vickie is a vote for freedom and apple pie. Probably.
-------------------------------
Hey guys this is Bill from Australia. With the recent face turns of superstars such as Cody Rhodes, Dolph Ziggler, CM Punk and apparently Mark Henry what do you think is behind so many recent turns? Is the WWE trying to freshen up their product? With so many face turns you would think A heel turn is likely soon. Who do you think it will be? Orton possibly (

Cewsh Note

: This question was originally answered before the events of Summerslam)? Thanks guys keep up the good work?
Cewsh
: I think that the biggest reason is that they hardly had any babyfaces on the roster at all before these changes. Beyond John Cena and Daniel Bryan, you have Kane out with a kayfabe injury, Kofi Kingston out with a real one, Chris Jericho leaving the company, Triple H, the Rock and the Undertaker off of the shows, Alberto Del Rio turning heel, and a whole lot of nothing going on in terms of up and coming babyfaces. So it's just a balancing of the scales. Guys like Cody Rhodes and Mark Henry were due a freshening up of their characters, while CM Punk and Dolph Ziggler were simply too over with fans to ignore.
The summer is the time that WWE experiments with new faces in new places. Now they'll all get the chance to sink or swim until Wrestlemania season comes around.
-------------------------------
In recent weeks, we've all heard of the TNA situation with a lot of the talent being unhappy. WWE is where my heart is but I try to keep up with TNA as well as ROH. I feel like TNA might be on to something with the Ace's & 8's storyline. Do you think in the long run, we could see this story line actually coming in to the WWE family and they actually getting an invasion angle right this time? How would you see it brought in, fueds, ect. and do you think this would be a good look for WWE?
Cewsh
: Look, do you really think that Vince McMahon is going to do an invasion angle with a lot of people who his audience has never heard of? One led by the former Bubba Ray Dudley of all people?
The Invasion angle was a once in a lifetime possibility, and we have to accept it for what it was, and that we'll never get another shot at it. If TNA went out of business and Vince McMahon bought it, it would be stripped of all useful talent and video footage, and then it would go to the sunny pastures where WCW and ECW live now, never to be heard from again. And it would very difficult to blame him for doing so.
Very, Very, Very Difficult
-------------------------------
From: Max

I wonder why we never saw Hogan vs Flair at WrestleMania 8. Do you know why?
Cewsh
: Well the hot rumor of the day was that Hogan and Flair had wrestled a few house show matches to get ready for the obvious Wrestlemania main event, and they stunk the place out so badly that Vince changed it on the fly to the matches against Sid and Savage, respectively. There has been a lot of doubt thrown on this theory, though Flair and Bret Hart have both suggested that Flair was having a lot of trouble with self confidence and adjusting to the WWE style during that period.
For the record, here is what former WWE writer JJ Dillon had to say about why the match didn't happen:
"You take risks. You would've thought it would've been a natural dream-match. And it didn't have the box office sizzle that we all would assume that it would. And after a run that was disappointing in markets (like Tampa) where it should have done well and it didn't... it's like Vince (McMahon) said - that match got booked 5 years too late."
-------------------------------




From: Nate

A handful of years ago, I vaguely remember reading that John Nord (AKA Yukon John, The Berzerker in WWF, and later in WCW under his real name) had a "Bible-thumper" gimmick at one point. Perhaps my Google-Fu is failing me, but I now can't seem to locate anything about this. If history is any indication, religiously-themed gimmicks tend not to last very long, so that may be why. (Think Friar Ferguson, Reverend D-Von, Mordecai, etc.) Any idea on when this gimmick for Nord might have been and with that promotion?
Cewsh
: Yep, Nord sure did have a "bible thumper" gimmick. It was one of a variety of wacky gimmicks that he held while working for Verne Gagne's AWA in the 80s. And yeah, the less said about it, the better.
-------------------------------
Do you think that by going to TNA and doing comedy spots or being overexposed or not properly used that the legacies of Sting, Hulk Hogan, Kurt Angle, Ric Flair and any other guys who made a name for themselves and were main-eventers in all of the orginizations that they have been in over the years will destroy the legacy that they built up in the years past?
Cewsh
: I realize that TNA fans who read the reviews probably think that I loathe the promotion, and take every chance to bash it for no reason. Honestly though, there are just a lot of sad realities that TNA fans have to come to accept. For example, do I think that working for TNA will ruin the legacies of the wrestlers in question? Nope. Because the vast majority of WWE fanbase is completely unaware of TNA's existence.
And with those guys in particular you have Van Dam, who is already back with WWE, Sting, whose status as the godfather of TNA has actually earned him more respect than obscurity would have, Angle, who resurrected his credibility after the shambles that marked the end of his WWE run, and Flair and Hogan, who have worked tirelessly over the past decade to destroy their own legacy in other ways.
-------------------------------
Hi, I am from Mexico. My question is: Should (if it happens at all) Austin Vs Punk be the main event of Wrestlemania XXX? Or do you think that that spot should belong to John Cena? I think Wrestlemania XXX should be HUGE. And they should try to make the best card possible. But I can´t imagine right now a bigger match than Austin/Punk. (no, not even Cena vs The Rock 3).
Cewsh
: CM Punk vs. Steve Austin would be an absolutely huge match. The mere suggestion that the match MIGHT happen has caused more mouths to water than the cake trolly at fat camp. But I think we need to be realistic here. If Steve Austin did come back for that match, it would be a disservice to him to expect him to wrestle a match worthy of the main event of Wrestlemania. He retired due to substantial neck injuries, he hasn't wrestled in a decade, and he's nearing 50 years old. Giving him a spot in the upper midcard of the biggest show of the year to tear the house down without the main event spotlight on his performance is the best gift they could give him. Let someone else worry about the showcase of the immortals. Let Steve Austin worry about kicking asses and drinking beers.
-------------------------------
What match of Undertaker's streak was the most impressive and why?
Cewsh
: I think his match at Wrestlemania 9 is his most impressive. Carrying Giant Gonzales to even the most rudimentary match is an achievement that you should be gilded in bronze for having on your resume.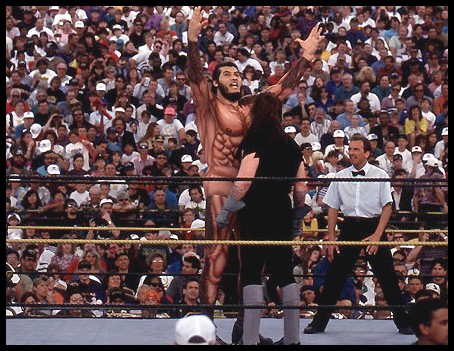 Giant Gonzales. Legend Killer.
-------------------------------
The Rock vs. HBK. Will we ever see it?
Cewsh
: Nope.
-------------------------------
Nailz was the scariest superstar of all time! How many PPVs was he on? When was he scheduled to face the Undertaker? Will we see him back one day? When the Boss Man died, did he laugh? Who's cooler, Nailz or Snitsky?
Cewsh
: Weird. I always saw Batman as more of an Atom Bomb fan.
I Think He Definitely Wouldn't Like Roderick Strong.
-------------------------------
\