Oh, hello. I didn't see you there. As I'm sure you've noticed, I'm Cewsh, from the amazingly successful blog "Cewsh Reviews" and yes, I am really this handsome. I'm here today to bring you fine, upstanding people some tips and tricks to help you navigate the strange and mysterious world of independent wrestling shows. For many years, countless young men and women have gone to attend their first indy show without any real concept of what it was they were getting themselves into. Today, we'll change all that by providing the internet's most definitive list of the items that will get you through a long day of watching fat old guys wrestle skinny young guys while they get heckled by fat young guys and skinny old guys. When you leave this webpage you'll be armed with all of the knowledge necessary to boldly walk into a wrestling show anywhere on this great planet of ours and declare, "PREPARATIONS ARE COMPLETE, BRING ME YOUR FINEST WRESTLINGS."
The Crown Will Be A Nice Touch.
Only, you know, don't.
10. That Famous Headliner? Yeah, They're Probably Not Coming.
So you're going to your first indy show. Awesome! You have your ticket and a backpack full of Red Vines and malt liquor to sneak in, and boy are you ever excited. See, because even though this is just some local indy show, the show is being promoted as having your favorite ex-WWE/TNA/WCW wrestler on it! You arrive at the show, sit through the whole thing until the main event waiting for your guy or girl to come out, only for the main event to be between Buff Bagwell and Wacky Smacky the wrestling clown. What gives?
It's a familiar story, and one you would be well served to keep in mind when going to a show just to see the top attraction. Indy shows suffer no shows. Like, a lot. There are numerous reasons for this, ranging from the wrestler getting a better booking somewhere else to the promoter lying about booking them in the first place. There's no real way to predict if this will happen to you, but just think about why this performer is wrestling indy shows instead of PPVs. Were they fired for drugs and no shows? Then yeah, you may want to bring a book.
There are two parts to this one. The first is that the crowds are small, so when that DVD inevitably gets released, the people who are sitting in the front row are going to be on screen a fuckton. So if you happen to be mooning the wrestlers during a particularly bad match, you can pretty much expect every pimple on your ass to be available nationwide within 6 months. And the worst part is that I know I just gave several of you ideas.
The second part goes like this. You know how in WWE, nobody in the crowd actually gets messed with for real by the wrestlers because WWE wouldn't risk the lawsuits? Yeah, indy promotions aren't worried about that stuff, and the performers damn sure aren't. So if you happen to be an obnoxious dork in the front row of a 250 person audience, guess what? You're going to be singled out big time. Usually you'll just get completely embarrassed by quick witted wrestlers who are used to drunken hecklers at every show they work, but every once in awhile you might cross the line, and then you'll have a picture of you getting punched in the face captured on the internet forever: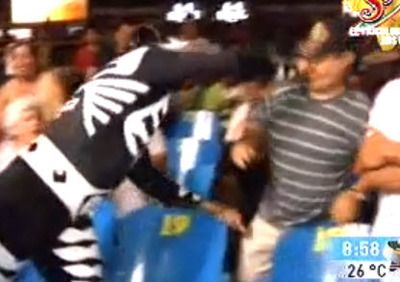 This Is How La Parka Says Hello.
And the hand print on your face will make for a great photo op for the fans sitting around you.
Note: If the indy wrestling show you're attending is in Japan, wear running shoes.
8. Wrestling Audiences Are Like Family Members.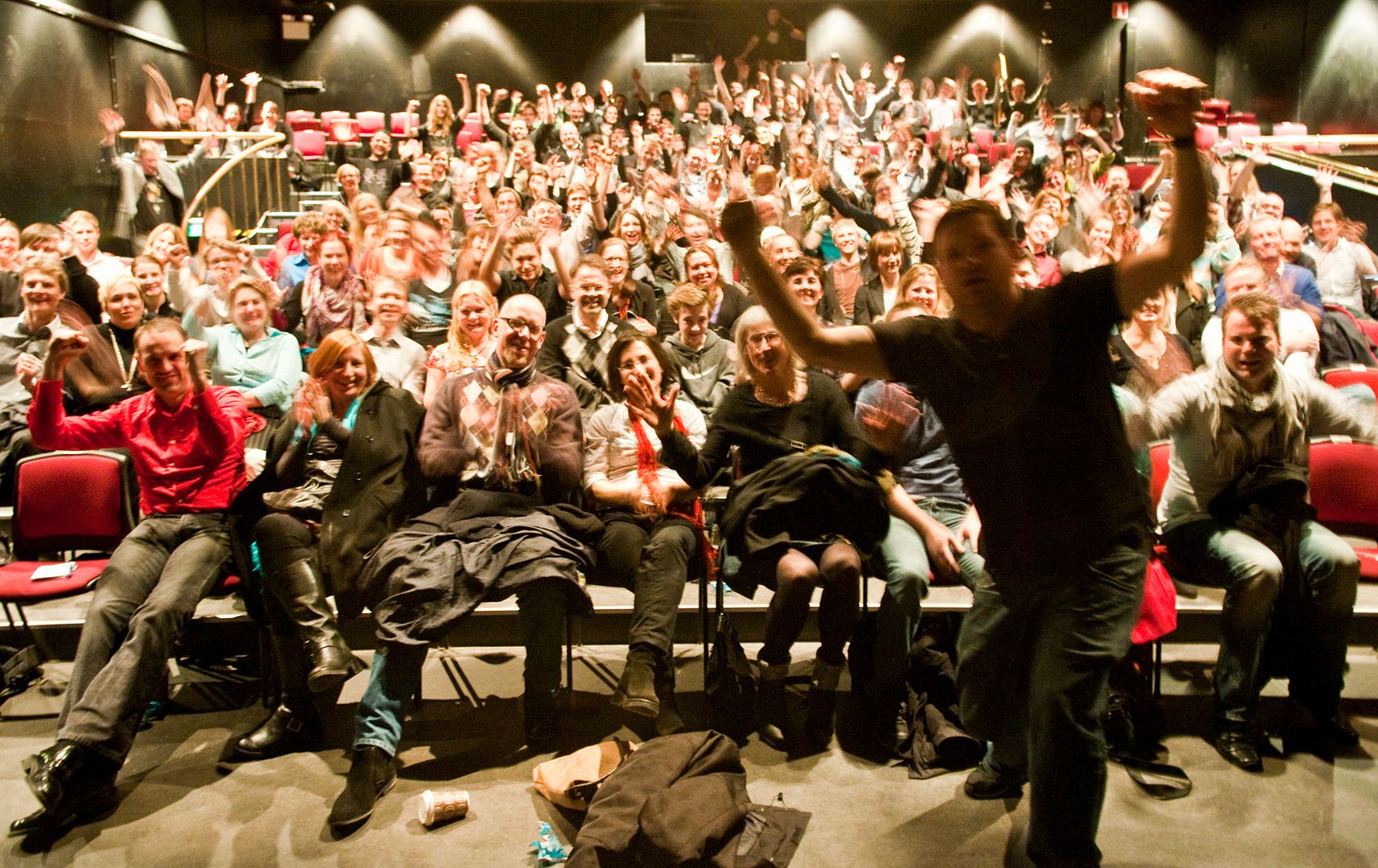 How are they like family members, you ask? Simple. They can be lovable, annoying, or outright hateworthy, and no matter which they are, you're stuck with them until the show is over. There's a saying that goes, "A man is kind, smart and adaptable. Men are greedy, stupid and dangerous." Keep that in mind as you deal with being around people who you would individually probably be friends with, who nevertheless inspire nothing short of homicidal rage on your part throughout the course of the show. Whether it's the old guy who wandered in off the street who just yells "HOOOOOOOOOOOOOOOOOO" at the top of his lungs for 3 hours, or the guy trying to grope female wrestlers as they walk by, these are your fellow inmates for the duration of the show. And to top that off, a good crowd can become a bad one out of nowhere and there's nothing you can do to stop it.
So if you're the kind of person who, say, violently assaults people for loudly complaining about matches as they're happening, you may want to bring a stress ball. Or ten.
Look at that guy. You will never enjoy anything in your life as much as he is enjoying some WWE show circa 199lame. And while that's a WWE show example, the same principle exists. When an indy show is really great, I mean those rare moments of real magic, you are going to be so caught up in it that it is going to seem like the greatest thing that has ever happened in the history of humankind. And that's super great, everybody deserves to have awesome experiences like that. But when your buddies are at home watching the show on tv, somehow it isn't quite the life changing orgy of happiness that you experienced firsthand. So who's right? The live guy, or the tv guy?
Really neither experience is right or wrong, but its important to know that you're going to walk around for the rest of your life with an idea of that event that the majority of the rest of the wrestling world just doesn't have. You'll have a totally different perspective on it, and when you go on message boards and tell people that The Young Bucks vs. The All Night Express is the match of the century, they are going to look at you like you're a crazy person.
6. Your Personal Space? You Left That At Home.
Somebody is going to touch you. The odds of the person who touches you being someone you would WANT to touch you are so astronomically small that scientists use it as a reference scale for measuring particles. Also, it will be ridiculously hot under the bright overhead lights, so sweat and odor are probably going to become factors here too. So unless you find the fucking Willy Wonka Golden Ticket that is a courteous seat neighbor, you'd better strap in and prepare to be wearing someone else's Axe Body Spray by the end of the night.
You'll think that you'll just need money for merchandise, and you can eat and drink at home. By the third hour of it being 109 degrees, your body will inform you otherwise.
Speaking of which.
4. Use The Bathroom During The Show.
This seems counter intuitive. After all, you paid to see this show, and now you're missing it to use the bathroom? But you only have to stand in a 30 minute line in a 15 minute intermission once to realize that that isn't the way to go. Sneak off during a lull and you'll not only avoid the lines, but you may see something awesome, like when I saw Colt Cabana getting a slice of pizza. Trailblazers have the best stories, and you can watch a skinny guy mess up a moonsault any time.
You know exactly what I'm talking about here. There are some people who simply don't have the social awareness or moral compass to resist being a gigantic toolbag whenever it might get them some modicrim of attention. Here are some helpful ways to determine if your innocent enthusiasm has strayed into "That Guyiness".
- The match stops while the wrestlers turn to look at you.
- You suddenly notice the space between you and the people next to you has widened significantly.
- You see people in the audience staring at you, wishing their eyeballs were laser beams.
As Demonstrated By The Old Guy In The Red Shirt.
- Cyborgs start shooting actual laser beams at you out of their eyes.
As Demonstrated By The Cyborg In The Red Shirt.
If any of this gives you a reason to suspect you are being "That Guy" then please refer back to number 8 and understand that you are essentially the embarrassing cousin who touches farm animals to everyone else in the building.
Before you attend your first indy show, it's important to come to terms with the idea that you've been protected in your wrestling watching career thus far. WWE doesn't work kayfabe hard anymore, but what they still present you with a very idealized product. The wrestlers are all superheroes who are on all the time, the sets are always pristine, and things are just so incredibly neat that you could eat your dinner off of them. When you go to an indy show, though, things will immediately be very different. You will see wrestlers just sort of hanging out like anybody else, you'll see them shilling for merchandise money at intermission personally, and you'll see all the little things, like the ring being built and repaired and bad botches and the like, that the big companies hide from you. Many people find it invigorating to see wrestling on such a real level as this, but many people find it to be a jarring adjustment if you're not prepared for it.
Broken down legends, young guys who will obviously never make it, matches that blast right past the humorous into the realm of the pitiable All of these are things you'll have to deal with as you take in the festivities, in addition to all the bad stuff mentioned above.
But despite all of that, all of the negatives, you need to go anyway. Why?
1. Indy Shows Can Be Totally Amazing.
Have I linked to that video enough? How about this one:
Familiar, right? Well the reason I keep bringing these two examples up is because they're both examples of unchecked brilliance. And the reason that pertains here is that they're brilliant in a way that you will never, ever see on the main shows in WWE or TNA. Even Bray Wyatt, who is on his way to the main roster one way or another, isn't going to get to be so unchecked and experimental on the big show, where only finished products are accepted. And that's exactly what the indy scene has that makes it so special. From match to match and show to show you will see people trying new things, going for broke and just doing it their way. And while so many of them will strike out and be terrible, there are so many more that will tear your expectations to shreds and leave you in awe.
Whether it's a young guy going that extra mile to make a match special, or a veteran recapturing their glory years one last time, or even just a storyline that feels real because you're sitting 5 feet away from it, indy wrestling will show you something amazing virtually every time you give it a chance. And that's why, through the crowds, the douchebags, the no shows, the long lines, and everything else. You should still go to every wrestling show you can.
What do you have to lose?
We hope you found this small guide informative, and if you take away nothing else from this, you should get that going to independent wrestling shows can be some of the most rewarding experiences of your wrestling fandom. But if you break the rules, wrestling karma will return to you and sentence you to 10 years of always getting stuck next to the fat guy who sweats profusely and tries to grope all of the women wrestlers while blaming it on you. I'm not saying you HAVE to follow them, but it's probably cheaper than all the lawsuits.