Good evening, boys and girls. Here at the Cewsh Reviews Institute For Higher Learning we believe in furthering the betterment of all aspects of the wrestling industry. So when we heard that Vince Russo would be stepping down as the head writer of Total Nonstop Action Impact Championship Wrestling Funtime Jamboree, we immediately tracked down leaders in numerous fields to compile this step by step guide to fixing the mammoth mess that TNA has become (or perhaps has always been). They have done their research, and the guide that we have compiled is both definitive and absolutely scientifically proven. With this list in hand, there is nothing that can stop Dixie Carter and Bruce Pritchard from tearing up the wrestling world, annihilating Vince McMahon and the WWE, and sitting themselves atop the wrestling industry in an eternal monopoly. Or, barring that, it can be used to insure that people stop laughing whenever they walk into rooms. Nevertheless, we have crunched the numbers, done the legwork and took a good long look at things.
So okay, TNA, just imagine that we're all in a conference room and I'm standing in front of you with one of those stands where the pages flip up while I'm giving my presentation. Are you picturing that? Okay, now picture me flipping up the first page to start my presentation, and on the first page in giant red letters is written...

1. Settle The Fuck Down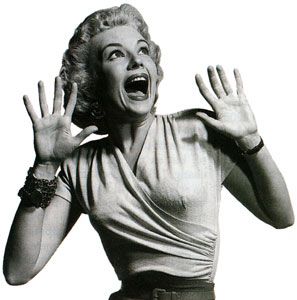 The idea behind this is simple. You have been flailing about so excitedly for so long with, "company wide changes," and, "new initiatives," that nobody takes you even remotely seriously anymore. Take your new Open Fight Night concept, for example. This is an idea you came up with to not only lend an air of spontaneity to your shows but also to give them structure and make your booking easier by giving segments a reason to exist that doesn't require a ton of work. Terrific. But while this is a rather drastic change to the norm in your company, your potential audience that is still aware of your existence pretty much rolled their eyes and went on with their WWE watching. And they were right to do so.
Why?
Well let's see if this rings any bells.
TNA will make a major announcement during tonights TNA iMPACT! on Spike TV at 8ET/7CT. We strive to deliver what...
http://bit.ly/93yhrL
Can any of you even tell me what this is regarding? Or even what month or year it comes from? Exactly.
Listen, we all appreciate enthusiasm. You guys are a bit of an underdog promotion, and you're always reaching out for any shred of attention you can bring to your product. But believe it or not, there's such a thing as bad publicity, and your company has been the focus of more of it than any wrestling organization since WCW closed down. Whether it be the top 10 rankings, the ECW revival, the roster overhaul with Hogan, an alleged refocus on the niche divisions or just that Eric Bischoff might buy someone soup for lunch, you need to stop making grandiose promises, you need to stop half heartedly rebooting your product, and you need to stop changing things so rapidly, trying to find something that will stick. Just. Settle. Down. Find a home run marketing method, (ala Mike Tyson for WWE,) or don't. But stop promising things you can't deliver. That's bad customer service.
But this isn't even a way to improve the product itself, this is just damage control. No, to begin improving the actual thing that your viewers see on their televisions, the first step is going to have to be you finally agreeing to...
2. Leave The Impact Zone
Now I know what you're thinking. "But Cewsh," You're thinking, "Everybody says that and it completely ignores our business model. Doesn't this show that you're ignorant of how our company runs?" And that's a fair question. After all, most people who want you to leave the Impact Zone behind like the sad failure turtle it is, seem to think that you can just start touring countrywide each and every week and thus far have simply refused to do so. This is obviously not the case. The crowds that TNA has drawn country wide have been wildly varying and inconsistent, and the product isn't popular enough to support itself outside of major population centers. But what you CAN do is simply move your product out of the Impact Zone to another location and run weekly in that same place. Because the reason you need to leave the Impact Zone isn't to expand your business, the reason is because people HATE THE IMPACT ZONE.
Having a sound stage to work with and having Universal Studios to keep bringing in the crowds is terrific and all, but despite your best attempts to liven things up, your television product has looked virtually the same every week for over half a decade. The arena is always the same, many of the fans are always the same, and while you've done your best to innovate different types of sets and the like, the Impact Zone has never stopped coming off as a sound stage stuffed full of smarks who do not go along with the show in any way ever. Perhaps time has dulled you to how damaging this is to your product, but rest assured that it is perhaps the most often repeated turn off cited by fans of your product that have begun to sour on it. Just think about it, because while you've been spinning your wheels at an amusement park, FCW just scooped up a fantastic venue agreement in your backyard, and now their product is going to have the one word that you've been vainly striving for. "Fresh".
3. Stay The Course
I'm going to be completely honest with you at this point. Your ratings and buyrates are going to go down. Sorry, but it's true. As you introduce new stars and new concepts onto your shows, you will inevitably alienate part of your audience or lose some of the drawing power that having a guy like Sting in the episode description will bring you. You've started to see this already as the new focus on Bobby Roode has resulted in some down ratings and a disappointing buyrate for Lockdown. But the important thing to realize is that Sting, Kurt Angle and Hulk Hogan will be gone in a matter of years, and at that time ratings will drop faster Facebook stock prices. Thus far you have kept pushing Roode to the best of your ability, and should be lauded for that. The key is to continue doing so, and not just with him, but with all of the other guys you have confidence in. As I said in my first point, the most damaging thing you can do is flit about from idea to idea while you hand your titles to whoever seems good that week and fail to brand anyone definitively to help carry your product into the future.

Remember, all of the great booms for individual companies in wrestling history were preceded by a dark period of low interest and poor financials. Most companies have to be backed into that corner before they discover what I'm sharing with you now. Your company has the rare chance to choose to take that risk before it is thrust on you. Have the courage to bet on the ability of your talent and staff and take advantage of this opportunity. Because this isn't a matter of taking the risk or not taking it. Its a matter of choosing to take it, or being forced to.

Ladies and gentleman of Impact Wrestling, you have a very real opportunity here to do something special and new in an industry where this is not often accomplished. You seem to be bubbling with ideas on how to change the game so its one you can win, and I support your desire to do so every step of the way. So today I have given you not so much a guide to fixing what is broken, but rather steps you must take to turn your product into the robust awesomeness machine we all know it could be. Learn from the advice here. Embrace it. And with it planted firmly in your mind, step forward into a new era free of ridicule, mockery and disdain. You have the power to shape the wrestling industry of the 21st century in the palms of your hands. Don't fuck it up.

Now, who wants doughnuts?