Ring of Honor Proudly Presents…

Welcome, cats and kittens, to yet another edition of the Pepsi Challenge Award winning Cewsh Reviews. We have a special treat for you tonight (is it special if I call them all special? Hmm.) in the form of Ring of Honor's 7th Anniversary Show. Now we here at Cewsh Reviews Headquarters have been very, very hard on Ring of Honor for the past year of two (or three), and as a result, ROH has been terribly underrepresented in our reviews thus far. Times change, however, and things really seem to be turning around in a big way for the once proud company. Great new talent, interesting new feuds, and a general new atmosphere to the promotion makes it great fodder for us to sink our teeth into.

The Era of Gabe Sapolsky has ended. Cewsh Reviews will proudly champion the Adam Pearce Era as of today. Unless it sucks too. In which case we can be ice cold, motherfuckers. Ice cold.

So without any further ado, let's do a motherfucking review!
Segment 1 – OPENING VIDEO FEVER!

Cewsh
: Bobby Dempsey does some talking about Larry Sweeney. Bobby Dempsey looks like the fat friend who was good for nothing and had chocolate bars on him at all times that you went to elementary school with. Basically he's interchangeable with the German kid from The Simpsons. Place on top of that a promo where he refers to himself as a "gunslinger" and threatens to kill people, delivered like a fat Autobot, and you have yourself an auspicious start to the show.
Segment 2 – Rhett (Greatest Wrestler Alive) Titus and Kenny (…Except For Him) King vs. Roderick (zzZZZzzzzZZZ…huh what?) Strong and Erick (Mohawk Man) Stevens.
Vice

: Titus and King are the future. It took me a while to get sold on King, but I'm now a big fan. And Titus.. dear god. After the shenanigans he pulled during King's match at the June 12th ROH show, I'm pretty sure he could slay my entire family and I'd still respect and adore him. He's fucking amazing.

I think there was a match here, but I was too busy gawking over the man with shoulders like boulders and thighs that hypnotize.




Cewsh

: So here we have Kenny King and Rhett Titus, two of the greatest young heels in wrestling, and without a doubt my two favorite men in Ring of Honor (possibly including The Young Bucks, it would be close), and they are taking on the two most useless wastes of space imaginable. Yes I know, I know, Roderick Strong is a solid wrestler, and that's fine, but he might be the least marketable bastard alive. Erick Stevens, on the other hand, is a complete wrestling poof. Another failed Gabe Project, who didn't live up nearly to his hype, and wound up going nowhere.

Let's take a moment to talk about Rhett Titus and Kenny King.

They're fucking awesome.

…

Well, that's really all that needs to be said, but for the sake of padding this bad boy out, allow me to elaborate.

Titus, one of the first Ring of Honor wrestling school students under CM Punk, might actually have the best grasp of in ring comedy of any wrestler working in America right now. You can bring me your Santinos and your Cabanas, but the fact is that Rhett Titus has just elevated himself a league above everyone else, but playing a character so awesomely and hilariously over the top, that its just a stitch to watch unfold. And that theme music! One way to tell if something is really getting over is to see if people are repeating it in their own lives because its made such an impression on them. Suffice to say, I have referenced the similarities between my shoulders and boulders at least 7,000 times so far this year.

Kenny King, on the other hand, is a future World Champion, or my socks are made of cheese. He's got the look, the personality, he's silky smooth in the ring, and he just seems to get it like so few indy guys do. Here he is in a comedy tag team, and he steals the show every night, and comes out looking like a top shit future title contender every time. You know how hard that is to do? Shit. I can't wait for him to make it huge so I can have been on his bandwagon fan bus the whole time. I hope there are snacks on the bus, though, because with the indies the way they are today, we could be waiting on it for a long, long time.

As for the match itself, it wasn't anything particularly special or interesting. I spent the whole match rambling about the participants because frankly this match is more interesting on paper than it really turned out to be. Strong and Stevens sucked, King and Titus ruled, and then they went home. Nothing complicated, but considering that this was the opening match for ROH's big show, I was kind of hoping for more to kick it off. Instead we got a very forgettable midcard match and quickly are moved on to bigger and (unlikely) better things.



62 out of 100.





Erick Stevens and Roderick Strong over Rhett Titus and Kenny King Following A Doctor Bomb From Stevens To Titus.
Segment 3 – Grudge Match – Claudio (Heyyyyyyyyyy) Castagnoli vs. Brent (Not So) Albright.



Cewsh

: GABE PROJECT SIGHTING.

Brent Albright is another one of those guys who, like Stevens, had a series of matches with a good wrestler (CM Punk, in Albright's case) that were blown out of proportion via word of mouth, and as a result was considered to be a better wrestler than he really actually was. Albright isn't awful. He's specifically not awful. But he'll always be marred by what he specifically is not, and that is someone that you'd pay to watch wrestle. Simple as that. When I say "Gabe Projects" I'm referring to a guy with obvious flaws, who are pushed to the moon anyway without bothering to hide any of said flaws.

Don't worry. I'm sure this won't be my last chance to use the phrase.

Castagnoli is pretty great, all things considered, and the television truly does no justice as to how ripped and huge this man really is. Seeing him in person is like watching a marble statue of a man walk by. Its ridiculous, and its no wonder that many fans love to chant "Steroids" at him. Castagnoli really seems to be getting into his heel character lately and has been making a splash, and part of that splash is apparently wrestling Brent Albright 763 times. Always a great way to go about it.

This is one of those grudge matches where the grudge is never made clear, and isn't really worked with in any meaningful way. These guys never seem to hate each other, or even really dislike each other. They wrestle back and forth for awhile, and its fine I guess, but the truth is that its just so fucking boring to watch that any technical expertise used is just generally lost on me. I'm a guy who can appreciate European style, and mat wrestling and old school and all of that good stuff, but sometimes you have to inject some excitement into your matches, or by the time you get to the false finishes at the end, the fans just aren't invested enough to go with it. That is the case here. Despite this, these guys have an exorbitantly long match, and then, just when you think the damn thing is FINALLY going to end, we get ourselves a time limit draw. In a grudge match. Its gets better. Claudio, the heel remember, proceeds to get on the mic and request 5 more minutes. Because OF COURSE the heel would want to go and get his ass kicked some more. That makes complete sense. This is, however, better than letting Brent Albright within 3 miles of a microphone, so I guess we'll just roll with it.

Claudio jaunts his pretty ass back into the ring, and is promptly destroyed. Then the ending happens. What is there to say? I feel cheated, annoyed, and I rolled my eyes so hard I nearly crossed them. It took 20 minutes to accomplish this? Really?



58 out of 100.






Vice

: Castagnoli is awesome when paired with the right opponent. The right opponent is not Brent Albright. Why? Because Albright fucking sucks.

I found myself playing Solitaire through half of this match. These kinds of matches always kill my enjoyment of the show. They give these guys like 15-20 minutes to put on an epic match when could have accomplished everything they needed to in 8-10. And it'd be a better match. Guess what? I bet the next match is super long and epic too. I remember why I stopped watching ROH.

Oh, so, yeah, they needed 15-20 minutes so they could get a fucking time limit draw. Thanks ROH. But wait! THE MATCH HAS RESTARTED! They're going at it again! And Castagnoli accidentally nutshots Albright, and thus gets disqualified. Two bullshit finishes in one epic match! So, again, they could have done this in 8-10 minutes.



Brent Albright over Claudio Castagnoli Following A Disqualification.
Segment 4 – Adam (I Book These Shenanigans) Pearce vs. Bobby (If Shenanigans Were a Snack Food, I Wood Be Eating Them Right Now) Dempsey.



Cewsh

: The idea here is that Bobby Dempsey had JUST broken free from the tyrannical clutches of Larry Sweeney, turning face, and raising the ire of the Sweet and Sour Man, so Larry Sweeney has commissioned the use of Adam Pearce here to teach him a lesson.

Yeah, it doesn't work out that way. I could be blamed for spoilers here, but if you bought this show to see either Adam Pearce or Bobby Dempsey, then a little more disappointment in your life will probably not be foreign to you. Some guy from NBC, allegedly on a show called "First Look" or some such, comes out to be the guest timekeeper or some other crap, and Pearce insults him and pushes him around for awhile. Then Dempsey comes out, gives Pearce a Death Valley Driver, and pins him for the win.

It is at this point in the show that I am casting about, trying to figure out exactly what it is that made this show so alluring in the first place. Certainly, Vice and I were very high on the product indeed after going to see ROH live in Mannassas a week ago, but could we have been THIS blind? It simply doesn't seem plausible. So far, this show sucks a fat dick, and I would really appreciate it if that would stop being the case.



46 out of 100.




Vice

: Dempsey what?

It's pretty goddamn insane how over the guy is. Kudos to him, or Gabe, or Sweeney or Joe Pesci or Elmer Fudd. Whoever.



Not really a spoiler this time, boys and girls.
Segment 5 – Mike (Quacker Oat Man) Quackenbush vs. Jerry (80's Hair Metal Icon) Lynn.



Vice

: QUAAAAAAAAAAAACK. Simple fun match. Not a lot to it. It's good to see Quack. Really underrated talent that man is. I've been a fan of him since the first time I saw him back in the Ted Petty Invitational of.. '04? He's awesome. Not incredibly three dimensional as he tends to wrestle the same sort of matches with the same sort of character 95% of the time, but he's still fun to watch. I just wish the man was healthier. And not so indy.

Lynn is pretty much the perfect opponent for him in ROH, outside of Chris Hero. I love the matches between Hero and Quack. Just straight up wrestling. QUACK QUACK QUACK.

I feel refreshed having watched that match.




Cewsh

: Well, here we have the first match of the night that really looks awesome on paper. Jerry Lynn is one of those guys who has been around since the dawn of time, and every time you see him its like "Oh yeah! That guy is awesome!" even though you never think about him when he isn't right in front of you. His matches with Rob Van Dam in ECW have lived on through an insane amount of IWC hype for all these years, and, though those matches are a tad overrated, that does tell you something about his skills.

Mike Quackenbush is a guy who is blessed with an awesome name and cursed with an awful look. Aside from those two things, though, I really don't know too much about the guy. I know that he is the driving force behind Chikara (which we will be reviewing later this year, PLUG) and that he is widely known as a valuable and technically sound indy guy, so I'm excited that this is my first time really seeing him wrestle.

They didn't let me down.

This wasn't the match of the year, or even anything close to it. What it was is what Jerry Lynn (and apparently Mike Quackenbush) is best at, a fun little chain wrestling exhibition that grabs your attention the whole time you're watching it, and then instantly runs right out of your head the second it is over. I really enjoyed this match, I really did, but sitting here now at its conclusion, I would seriously be hard pressed to describe to you what actually happened in it. If pressed, I might offer up phrases like "Jerry Lynn did some cool stuff" or "That Quack guy did some rad moves" or "I ate some Cheetoes and wondered what having flippers would be like." These would all be true statements (soggy, is the conclusion I came to for that last) and if those sound like ringing endorsements, then that's good, because they are.

This was a fun match, that made me excited about seeing the rest of the show. Its exactly the boost I needed just now. Its not a great match and it isn't a match you'll be talking about later on, but you'd be missing out to skip it.
75 out of 100.
Jerry Lynn over Mike Quakenbush Following A Cradle Piledriver.
Segment 6 – Ultimate Endurance Revolution Rules – Age of the Fail (Austin Aries, Jimmy Jacobs and Brodie Lee) vs. Delirious (The Most Overpushed, Shoved Down Your Throat Comedy Gimmick Wrestler EVER), Necro (Greatest Wrestler Of The Decade in Tainted Eclipse Land) Butcher and Tyler (Everything Was Handed To Me On A Silver Platter)Black.*

*These bitter and extremely accurate nicknames are brought to you by Vice. Remember. Shop smart. Shop Vice Mart.




Cewsh

: Fuck me.

Alright, I'm not going to get carried away. This match could turn out just fine. Let's run down the rules.


1.

This is an elimination style match, meaning that if one member of a team is pinned or submits, he is eliminated, and the rest of the members of his team must continue without him.
2.

This is a revolution rules match. Which means…
3.

…well fuck, I have no idea what that means.
4.

Maybe no holds are barred?
5.

Most holds are barred (spooning is discouraged)?
6.

Okay wait, so apparently the idea is that whenever someone is eliminated (Aries pinning Black, for example), whatever means that were used to beat that individual, cannot be used to beat the next person. So if Aries were to pin Black, the next person in the match who was eliminated would have to submit or be counted out of something, because pinfalls would no longer count.

Alright, this is pretty much the tail end of the enormous failure and mockery of sensible booking that was The Age of the Fall. In case you missed it, the Age of the Fall was the brainchild of Gabe Sapolsky and Jimmy Jacobs, and was basically intended to be Jimmy Jacobs and Tyler Black being a couple of super emo, anarchist, anti organization douchebags. Unfortunately they often forgot about everything between "emo" and "douchebags", and after awhile it simply became an elaborate way of pushing a young man by the name of Tyler Black.

By hook or crook, this actually worked to some degree, and Black got over by virtue of being the only face that Gabe had any desire to push to any extent, and by actually being fresher than most of the rest of the roster. The Age of the Fall continued, however, with new members including Necro Butcher, Delirious, and Brodie Lee. Slowly but surely, Jacobs pissed them all off (except for Lee so far), leading to this big fuck off match, with everyone left who could stand Jacobs to any extent siding with him against everyone who wants Jacobs dead.

With all of that backstory out of the way, we'll just ignore it all from this point on, because none of it makes any difference whatsoever. This is the Tyler Black Show featuring some other dudes, and the match proceeds as such. A big brawl breaks out in the beginning and never really ends. Everybody just does whatever brawling they're comfortable with doing with so many other people hanging around, and then after an interminable amount of time, Austin Aries hits the Brainbuster on Delirious, resulting in our first elimination.


Delirious has been eliminated by Austin Aries Following A Brainbuster.

Okay, so no more pins for this next elimination. So what are they going to do? Are they going to have Jacobs show off his very sexy Endtime (Front Facelock Guillotine Choke) submission? Which is awesome and looks like this: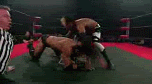 Is someone going to bust out a submission move that they've not used before to get the win? Err…well no, no they aren't. You see, Brodie Lee and Necro Butcher have been grandly fighting outside the ring ever since the match started, and as a result of them leaving the immediate ringside area, despite the fact that they are in a tiny gym of some kind, the referee declares that they have both been counted out for leaving ringside. Yes, that's right. In a no disqualification grudge match; these two motherfuckers got themselves counted out.
Brodie Lee and Necro Butcher Have Been Eliminated Following A Count Out.

Let's analyze this for a moment, shall we? This is pretty much the blow off match for the entire Age of the Fall angle, and is the blow off for Necro vs. Jacobs, Delirious vs. Jacobs, and Black vs. Jacobs. As a result, a certain amount of respectability and epicness is to be expected, yeah? So I am expected to sit here and believe that Necro Butcher wanted to kick Jimmy Jacobs' scrawny ass SO BADLY…that he wanders off with Brodie Lee and doesn't bother to come back? Seriously? That's where we're going with this? Why have these two guys out here in the first place? And why in the name of blubbercunts everywhere, do we have to have this fucking recockulous match stipulation if they're just going to eliminate half the match for no reason?

Anyway, the match continues, with Aries and Jacobs having the advantage over the lonely Tyler Black. Black holds his own for awhile against both men (Tyler Cena) until they finally overwhelm him and set him up for a big move. Of course this move never occurs, because despite the fact that both Jacobs and Aries loathe Black above all else, neither one of them can decide who should get to do the fancy flippy that knocks him out. So they get themselves into a huge fight. As a result of this fight, Black sneaks in, and locks Jacobs' Endtime finisher on Aries.
Austin Aries Has Been Eliminated By Tyler Black Following The Endtime.

Despite the fact that when Black does that move it looks like he's hovering over a canvas toilet waiting to take a dump, this has effectively evened up the odds between these two men. So now we're in for the epic confrontation, right? These two guys with so much history, and so much hate for each other? WRONG. Jimmy Jacobs grabs a RAILROAD SPIKE from ringside (I didn't know that many railroads ran through high school gymnasiums) and attempts to stab Black with it. Black wrests it away, and goes to stab Jacobs in return, but instead misses and sticks it right into the turnbuckle pad. Would murder count as something to be disqualified? Or would "No Disqualification Match" be a good defense to use in the court room? Compelling question.

Anyway, the two guys then have generic indy wrestling match #16, and come to the obvious conclusion, which is Black pinning Jacobs clean to win the match and the feud.
Jimmy Jacobs Has Been Eliminated By Tyler Black Following God's Last Gift (fucking stupid name).
I realize that I am biased against Tyler Black. He's gotten this huge John Cena push out of nowhere, and has never shown a glimmer of the talent required to be worth such an effort. As a result, I resent him to my toenails every time I see him, but even if I didn't, this match would suck. This match sucks so much, that I have no achievable metaphors to share with you to go with it. Every second of it had me crying out, wishing for Ian Rotten to hit someone with a light tube. Its just stupid booking, piled on top of terrible gimmicks, piled on top of bad wrestling, piled on top of confusing rules. I just don't know what further to say. Gabe Sapolsky is to blame for all of this, and if you really, truly loved me, you'd knock on his door and smack him around with your dick for awhile until he has properly paid for what he has done.
14 out of 100.




Vice

: Revolution Rules here we come!

Butcher did a great job of selling his leg while briefly in this match. Why? Because he legitimately hurt his leg. Why? Because he did a senton off the top rope onto his opponents who were standing outside the ring. Why? Because it makes sense for a wild barbarian of a redneck to do a senton off the top rope.

Necro and Brodie frolic off into the sunset together, possibly going on a picnic. Yeah, I missed it. Of course there was ROH's handy picture in picture going on, but it still made no sense. I have no idea what's going on in this match and apparently the wrestlers don't even know either.

The match was awful. The rules were interesting, but it just fell flat. Completely flat. And Tyler Black won. Do you want to know why Gabe got fired? Matches like these.

Matches like these.
Segment 7 – Grudge Tag Team Match – The Obama Embassy (Bison Smith and Jimmy Rave w/ Prince Nana) vs. Team Random But Awesome (Bryan Danielson and Colt Cabana w/ Grizzly Redwood).





Vice

: Nana is just incredible. He was one of those people that kept me watching ROH. He's just so entertaining and awesome. A true delight to watch. He's even an actual prince for fuck sake. Plus he's rockin' a Barrack Obama shirt.

I haven't seen much of Bison Smith aside from a few clips here and there. I'm not sure entirely what to expect. Unfortunately he is not an actual Bison, nor M. Bison from Street Fighter. But, according to Defrost, Bison Smith got the name "Bison" by ripping the throat out of an actual bison with his teeth. If that's true, I gotta be honest here-- that's pretty motherfucking hardcore.

Jimmy Rave returns to Ring of Honor after his long stint in TNA as a part of the Rock N' Rave Infection. And, well, he's back to his old ways as if nothing has changed. He even gets a couple rolls of toilet paper chucked at him. I love Rave. He's such a remarkable heel in ROH.

Danielson has a mystery partner, and they had a good tease with Grizzly Redwood coming out. Naturally he gets pressed slammed straight onto the floor from the inside of the ring, dying for our sins, but it was fun. Then the real mystery partner shows up…

COLT CABANA! Another big return, this one form WWE. Though unlike Rave, unless you watched Cabana's show on WWE.com, it's likely that you have no idea who he actually is. Shame, really, as Cabana could have been awesome in WWE. But, he's back in ROH, and I'll never complain about that.

I was fairly underwhelmed by the match. It was pretty good, but nothing stood out in a big way outside of the obvious returns of Cabana and Rave. Solid performances by all. Wasn't very impressed with Bison Smith, but I'll give him a few more matches to win me over. Before I kill/bury him, that is. Gya ha ha ha.

Jimmy Rave does the job. Seriously, it's as if he never left. The post-match shenanigans with Cabana and Danielson totally made me forget about the match and I was giggling quite a bit. Fuck I missed Cabana.




Cewsh

: Prince Nana cuts the awesomest promo ever prior to this match, rambling on about Obama and how great he is. He rants on for awhile and then cracks an awesome joke about his "Stimulus Package" which is amazing, and awesome, and reminds me of everything that I used to love about the Embassy, and hadn't even realized that I missed so much until I got it back here. Then Jimmy Rave comes out to absolutely NUCLEAR heat from the crowd, and I can't help but wear a huge smile on my face. I have said before that not putting the Ring of Honor World title on Jimmy Rave when he was at his peak in 2005/6 was a huge mistake for ROH, and seeing the reaction to him here just reminds me of why. He is the best heat getting heel in wrestling today. The about of heat he gets for his every move is simply absurd, and to get that in ROH where every single wrestler gets wildly cheered is especially impressive.

Then out comes Danielson and his mystery (I assume it had been a mystery) partner COLT CABANA. Now I knew that Cabana was back already because Vice and I saw him in Mannassas earlier this month, but to see him come back here to Copacabana and hear the fans explode for him was fantastic, and the idea that guys like him and Rave have come back to ROH is incredibly exciting. ROH got drained of talent when they went to PPV, and now they've started to filter back in and intermingle with the talent ROH managed to make in the intervening years (basically just Nigel McGuiness), and its pretty damn good all around.

Now then. While these guys are all cool, and I'm a fan of most of them (I'm kind of "Meh" on the Bison Killer), there's a reason I have more to say about their entrances and their impact on the promotion than I do on the match itself. This is one of the kinds of matches that used to make ROH awesome. It has a bunch of awesome people in it, and they're having a good time, and we're having a good time, and its just fun to watch. There's not a ton to say about the match as a result, though, since its basically just a reintroduction exhibition for Rave and Cabana.

A fun match, a welcome match, an average match. That's the facts, jack.



73 out of 100.





Cabana and Danielson over Rave and Smith Following a Roll Up By Cabana To Rave.
Segment 8 – D'Lo (Is Emphatic About Your Need To Represent) Brown vs. Jay (MAN UP…from Delaware) Briscoe.



Cewsh

: D'lo comes to the ring, and I was just thinking to myself about how awesome the guy is and how cool it is to see him wrestle the younger talent in an American promotion again. And then he ruined it. He ruined it by grabbing a microphone and immediately using his release from WWE to try to get himself over.

Look. I realize that WWE is the big bad machine, and that in promotions like this, it may very well get people behind you to act like a rebel against them. Fine. But don't bury the WWE just because you got honestly released with no known maliciousness surrounding it. Brown wasn't terrible hear, more putting over ROH than bashing WWE, but when guys like Kurt Angle, Booker T, and The Voodoo Kin Mafia (ugh) did it, it made me want to put a brick through my television. Not that I really could, since it's a flatscreen. Can you put a brick through a flat screen? Seems like it'd just bounce off and land on my cat.

For the sake of my cat, D'lo Brown, please refrain from future WWE references.

Anyway, this match was, well, it was boring. Fucking boring. It wasn't really either guys' fault, in my view, they just didn't really click at all. D'Lo still seems to be in the mentality that he should be sort of a high flyer, and that really doesn't work in ROH, since everybody else in the promotion is a foot shorter and a hundred pounds smaller than he is. I think that if he really bit into a bullying, heelish gimmick he could make serious waves here, but as things go now, it was very similar to watching Steamboat and Jericho. One man just couldn't entirely keep up with the other, and while in that match I mentally forced myself to rationalize it because I wanted it to be good so badly, this match just had to survive on what happened in the ring by itself, and it couldn't.

Both fine wrestlers. Not their best work.



65 out of 100.






Vice

: D'LOOOOOOOOOOOOOOOOOOOOOOOOOOOOOOO!

…who comes out and trashes WWE/thanks them for releasing him, blah blah blah. You know, the usual bitter speeches that wrestlers give once they land in the indies.

Here's the problem I have with this match: it's your absolute typical Ring of Honor match. The kind that drove me away from the product. It's just given way too much time for no real reason. If there is a reason, it's probably someone thinking "LET'S GIVE D'LO A REALLY LONG UNRESTRICTED MATCH TO SHOW JUST HOW MISUSED HE WAS IN WWE!! THEN THE FANS CAN CHANT ROH ROH ROH AND TALK ABOUT HOW AWESOME ROH IS FOR NOT BEING WWE!"

Upon further inspection, the match only got like 15 minutes. Not an amazingly long amount of time, granted, but it'd have been a much better 8 minute match. But fuck, it felt like 45 minutes. I wanted to enjoy it, 'cause I like both guys, but it didn't click for me.
D'Lo Brown over Jay Briscoe Following A Roll Up.
Segment 9 – ROH World Tag Team Championships - No Disqualification – Kevin (Our Friend Geoff's Create-A-Wrestler) Steen and El (Someone With a Mean Sense Of Humor's Create-A-Wrestler) Generico © vs. The American Wolves (Evan Bourne and Chris Benoit. No Not Really).
Vice

: Alright, so, this is one of those matches that "steals the show" here. It's your typical ROH insane tag team match featuring, yes, two actual teams. And by "steals the show", I mean that when the results come in on the ROH board, it includes a little note about how it was OMG MOTYC FUCKING AMAZING BLEW THE ROOF OFF OMG CUM IS EVERYWHERE, and then another person who attended the show is all like YEAH THAT DUDE WHO SAID IT WAS CUMTACULAR WASN'T LYING AT ALL MAN IT WAS FUCKING INCREDIBLE DUDE LIKE FIVE STAR MATCH FOR REAL and shit, and then everyone on the ROH boards are like HOLY SHIT FUCKING CUNT CANNED HAM IN A JAR OF JAR WHAT ABOUT JAR JAR BINKS LOL AHAHA OH RIGHT I CAN'T WAIT TO SEE THAT FUCKING MATCH IT SOUNDS SO AMAZING!!!! FIVE STARS!!! DAVEY IS THE FUTURE!!! STEENERICO!!!! OLE!!!! YAY!!!! YAY!!!!, and by the time it comes out, everyone has it in their mind that it's fantastic and, well, they think it's fantastic. And then they praise it to the moon and sacrifice a fucking innocent llama and spill the blood into their Gabe Sapolsky shrine in their closet and babble on about how ROH is the best thing ever.
ROH is slightly better than the mosquito bite on my left index finger. But only slightly. Actually, on second thought, I gotta give it to the mosquito bite here. Nobody overrates mosquito bites, and in a few days it'll be gone and I'll never have to think about it ever again.

So, what am I trying to say here? The match was pretty fucking ughverage (hey I can make words too) and nothing more, despite what the ROH boards probably say. I don't want to know what they say though, because that place is a cesspool. Yeah. Feces.

VIVA LA INDIES!




Cewsh

: I am aware that this is part of an ongoing feud between these two teams. Which is just as well, as they're pretty much the only teams in Ring of Honor, so they might as well feud (keep those belts warm for the Young Bucks, motherfuckers.) Honestly, though, I could give a shit. Steen and Generico are not wrestlers that I like, but through sheer chemistry together, and a knack for putting on extremely good tag team matches with a variety of opponents, they have absolutely earned my respect. But Eddie Edwards and Davey Richards?

So this is what the great Davey Richards has become. I remember not so long ago when he was the next savior of the wrestling business. You remember it too, don't you? That wonderful summer when everyone knew Richards was coming to Ring of Honor, and excitement and hype reached a fever pitch. Everyone was convinced that he would be a main eventer, and it wasn't a matter of if, people simply squabbled over how quickly he would get there. The he showed up and…well, he sucked. He sucked HARD. And now these years later, here he is teamed up with Eddie Edwards of all people, competing for tag team titles because there is nothing else for him to fucking do. Don't get me wrong, there is nothing wrong with Eddie Edwards. He actually frequently outshines Richards during their matches, and in no way screams "I'M TRYING WAY TOO HARD" with every fiber of his being like Richards always has. It's just such a sad state of affairs for the "wrestling messiah". Now Tyler Black has taken that role away from him, and Gabe Sapolsky's knat-like attention span has buried him as deep as a man can go. Maybe he'll come around, and maybe he won't. But nobody in their right mind would want their legacy to be something called "The American Wolves" for fuck's sake. Nobody.

These two teams are feuding for some reason that is pretty much lost to me, but at the very least they both do a good job of letting me know that they're feuding with their actions. They get right to the slugging it out immediately. The steel chairs are employed soon after the match begins, and I give all four men full credit for managing to supply a No DQ match, where only chairs and one ladder are used. None of the typical indy overuse of gimmicks is evident here. They have a nice little brawl, and its perfectly fine, but through it, I just felt like something was off. Maybe it really was just the presence of Richards, who invests his every movement with so much manic energy, that it causes everything to look slightly off, and hard to get into. Maybe it was that I know who wins this match (Manassas again). Hell, maybe its just because they didn't go as far as they could since this isn't the blow off match, I don't know. I just kind of felt like everyone was holding back in this match, and while there were some impressive spots, and fun moments, there really just isn't anything to recommend here.

I enjoyed this match, but I simply wouldn't watch it again. There wouldn't be any reason to.

Davey Richards is a blubbercunt. But I forgive him. At least he isn't Tyler Black.



67 out of 100.





Steen and Generico over The American Wolves Following A Sharpshooter.




Cewsh

: That's another thing. Why does everyone who has ever put one foot in Canada get to use the Sharpshooter as a finishing move? Every fucking independent match is ended by a WWE finisher or by a roll up. LEARN SOME FUCKING FINISHING MOVES YOU ASSHOLES! Maybe it'd be easier, if you didn't burn through 75 neck drops just during the transitions.
Segment 10 – ROH World Heavyweight Championship –
KENTA (The Less Cool Half Of KENTAfuji)
vs.
Nigel (Porcupine Impersonator Is His Day Job) McGuiness ©




Cewsh

: KENTA only has 3 kinds of matches.


KENTA Match 1:
Step 1: KENTA kicks you.
Step 2: You do something to KENTA.
Step 3: KENTA no sells and kicks you more.
Step 4: The Finish.
KENTA Match 2:
Step 1: KENTA kicks you.
Step 2: You kick KENTA back.
Step 3: KENTA gets REALLY MAD.
Step 4: Lots more kicking.
Step 5: The Finish.
KENTA Match 3:
Step 1: KENTA kicks you.
Step 2: You ignore KENTA and force him to have a good match.
Step 3: Awesome match.
Step 4: The Finish.
Its really like a choose your own adventure match with KENTA. If you make the wrong decisions, and let things go the wrong direction, you end up going down a bad path, and before you know it, you're on a page with the words "The End" on it, and you realize that you didn't do what you were supposed to. Unfortunately, this match has a little more Match #1 than Match #3, and that's a shame, because I had high hopes for these two.

The trouble here is that Nigel seems to be injured. I have no idea how injured Nigel was at this point, but since this was the same injury that caused him to have to give up the belt, I think it can be assumed that that it had a big influence on his abilities. Whatever the cause, this match is not good. Its fine. Its barely fine. This match fucking stunk of "Let's have an EPIC ROH MAIN EVENT MATCH" even though they weren't capable of pulling it off. As a result, KENTA looks stupid for losing to Nigel when Nigel is basically crippled, after a long match. Nigel looks like John Cena (in the bad way) for beating one of the best in the world (allegedly), while essentially crippled and never bothering to look overly weak despite LEGITAMATELY BEING INJURED. Everyone looks bad, the show looks worse as a whole, and you look worse in those pants. You heard me, they make your thighs look huge. Who told you plaid was back in fashion? Yeah? Well they lied. They lied bad.

I don't know what to say. I had really high hopes for this, and multiple times I tried so, so hard to get into this match and gleam some value from it, but I just couldn't. There were no riches to be found in this match. There was nothing but sadness and woe, where joy and frolicking should be. I know many may disagree with me and enjoy this match, and that's fine, but this match was a perversion of what ROH main events could and should be, and is a shining example of the company letting the specter of expectations overrule their better judgment.



52 out of 100.






Vice

: Wh-wh-wha-whaaat tiiiime IZIT!?

KENTA time. NIGEL time. MAIN EVENT time. NAP time!

I seriously don't see why this match got/gets so much love. It was KENTA legitimately kicking the shit out of a legitimately injured man for like 30 minutes, and the armless (and English..) superhero defeats all of Japan here. This was during a time when Nigel really should not have been champion, the bookers should be focusing more on building/establishing other talent (aside from Tyler Black), and when ROH was just the same old shit. You can miss like 20 shows, watch a random one and it's exactly the same as when you left off. It's really quite depressing when you actually try to think about such a thing.

I know that people love matches where people are legitimately injured and fight through the pain to put on a hell of a gutsy, heartfelt performance, but let's be real here-- the match wasn't very good. Sure it wasn't baaaaad, but injury aside it wasn't very special. It was just Nigel getting his arms kicked for 30 minutes. I blame KENTA. This stuff was awesome in like 2006, but.. it's 2009 and something needs to change. He needs to evolve from a Pikachu into a Raichu.

This match was the typical ROH main event that put me off the product. I once had almost every single ROH show at the time. I salivated over upcoming cards. When a new show came out, I absolutely HAD to have to it right away. I watched it and loved it. Those days are long gone.

On a random note, I'm sure Nigel appreciates KENTA wearing kickpads.
Nigel McGuiness over KENTA Following A Backbreaker Armbar.
-------------------------------------
Cewsh's Conclusions:

Cewsh

: Man, was this show a disappointment. With all the big names on it, and with my general good feelings towards ROH lately after attending a live event and truly enjoying the everloving shit out of their weekly television show (Wednesdays on HDnet, check your local cable provider), I thought that now would be a great time to get back into ROH. I'm not entirely sure that I'm wrong, and I'm not willing to give up on them altogether because of one bad show, but make no bones about it. This show was not good, and did not make a fan out of me. Not at all.


Cewsh's Final Score: 50.6 out of 100.




Vice

: Overall I was very disappointed with this show. With ROH's TV show being a hit, plus the live show that Cewsh, chotliwala and I attended being good, I really thought that this show might bring me back into the product. But it didn't. Honest to Optimus, i wanted to love this show. It looked good, it sounded good, it had tons of potential.. so what the hell went wrong?
Vice's Final Score: 54 out of 100.

Alright ladies and gents, that'll do it for us this week. This week's installment was equal parts dissapointment, rage, and elation. The elation part was at actually getting the review up on time (early even). The rest was allll the show. At any rate, this is the first of many of YOUR requests that we'll be taking on in the coming months. We definitely hope you guys enjoyed it, and we damn sure hope you enjoy it next week, when we tackle a classic show in every possible meaning of the word. The year was 1991, and WCW and New Japan decided to have themselves a little supershow out east. What resulted is absolutely legendary, and we are honored and priviledged to bring it to you. The 1991 New Japan/WCW Show. I believe it also went by the name Korean Kollision or some such, and if you are a fan of classic wrestling, Japanese wrestling, or, frankly, of us, you're not going to want to miss it. Until then, as always, keep reading, and be good to one another.